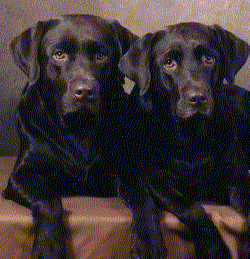 Harley & Davey

We are loved by the Gallant family who takes us on all kinds of trips to dog shows, obedience trials, field and hunting tests. But our most favorite place is up at the cottage swimming in the lake and chasing bumpers off the dock. Our human Mom & Dad are Vicky & Kevin Gallant they are small hobby breeders who are dedicated to the Labrador breed and love to see us do what we truly love and that is to retrieve.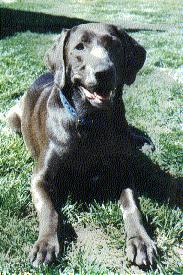 Chelsey 1985-1994

We started to go through the evolution into exhibitors and breeders when Harley and Davey came into our lives. We got bitten by the bug when it comes to showing, training and competing with the dogs. By being involved in the sport of dogs we have made many friends and have started to develop our line of Labrador Retrievers. All of our dogs and the dogs that we use for our breeding program are certified for hips and elbows. As well we do annual ACVO eye examinations on all of our dogs and ensure that any dogs used for breeding are also cleared for eye problems. We are only hobby breeders so we do not produce alot of pups maybe one or two litters a year.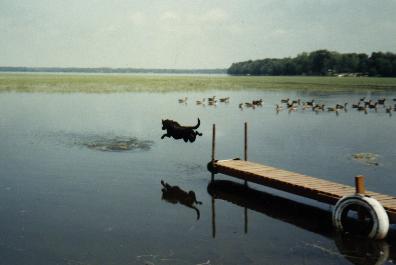 Chelsey's water entry
Hi let me formally introduce you to our crew on the left is BISS Can Ch OTCH Hammersam's Davidson WCI, JH, CGC, VCX, AM CD, AM WC. On the right is Hammersam's Harley CD, WC, CGC.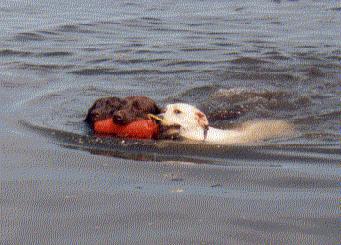 At the cottage
This interest in Labrador Retrievers started back in 1985 when they got their first chocolate lab named "Chelsey". She was a loyal family companion and pet and her water entry off the dock was second to none. Chelsey taught them to love the breed and at 8 years of age she went on to the rainbow bridge. Many hours were spent watching her doing water entries from the cottage through the view of the lake which is surrounded by white birch trees. So when the evolution took place of becoming exhibitors, trainers and breeders the name Birchview was chosen in her memory. It is a place that we love to be as well as our dogs old and new.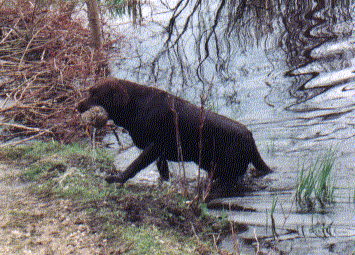 Davey doing a water retrieve 1997 LOC WCI test
The one thing that all of the dogs love to do is to retrieve and all of them are in various levels of retriever training. We believe in bringing out their natural instincts so field work is done with them all.
The obedience work also comes hand and hand with the field work. You cannot have a dog that sits quietly at your side while doing field work unless you have some level of training in obedience.
We are members of the Canadian Kennel Club. Labrador Retriever Club of Canada, Labrador Owners Club and the Eastern Ontario Labrador Breeders Association.